St Xavier's Schools are located in Chandigarh , Mohali, Punchkula (India).

Chandigarh was planned by the famous French architect Le Corbusier, and was conceived as a city of Sun, Space and Verdure to fulfill four basic functions of living, working, circulation, and care of body and spirit. In spite of its modern fades, at heart, Chandigarh is quite traditional. In fact, it is a strange mix of the old and the new-perhaps a city in transition.

The sun-bathed piazzas of the city, its' neat housing clusters and the broad tree-lined avenues are visible manifestations of the planning precepts. No wonder Chandigarh is often called the City Beautiful or the Garden City both fond epithets given to it by its residents.

'Rock Garden'-Nek Chand's Masterpiece is an International symbol of creativity located to the north of the city sandwitched between Le Corbusier's Panjab Secretariat and the Sukhna Lake.

The most important shopping and commercial center of Chandigarh is Sector 17.

Perhaps a major part of the city modernity emanates from the fact that there is a very large body of youthful student population.

Located on the banks of River Ghaggar, 15 km from the city, the Chattbir Zoo is an ideal getaway from Chandigarh. The zoo lies on the Chandigarh-Patiala Road. Besides these, Pinjore (now Yadavindra Gardens; 20 km), Morni Hills (45 km), Kasauli (77 km), Chail-Summer capital of the princely state of Patiala (107 km), Shimla- summer capital of British India and now that of Himachal Pradesh (110 km) and Kulu Manali-a popular mountain resort for both Indian and International tourists and a major hiking, skiing and para-gliding center(250 km) are some of the interesting places to visit around Chandigarh

Area:
69.63 sq km

Languages Spoken :
Panjabi, Hindi, English

Max Temp. :
42.40C

Min Temp. :
3.40C

See the Map of Chandigarh
HOW TO REACH CHANDIGARH
By Air

Chandigarh is connected to New Delhi (daily) and Amritsar (bi-weekly) by Indian Airlines. There is also a weekly flight to Leh from Chandigarh. Jet Airways has daily flights from Chandigarh to Delhi and vice-versa. The airport is 11 km away from the city center.

See Flight Timings
By Rail

The railway station is 7 km away from the city center. It is well connected to the major cities of India like Delhi (238 km), Bikaner (575 km), and Jodhpur (827 km).

See Train Timings
By Road

Chandigarh is well connected by road to almost every small and large town/city in northern India. Frequent buses ply from Chandigarh to Panjab, Delhi, Haryana, Himachal Pradesh, Jammu and Kashmir and Rajasthan. There is a varied choice that includes luxury buses, ordinary buses and taxis.

See Bus Timings
Some important distances are:
Amritsar - 240 km, Delhi - 248 km, Gangotri - 535 km, Jammu - 380 km, Jaipur - 507 km, Nainital - 586 km, Rishikesh - 276 km, Srinagar - 666 km, Udaipur - 926 km, Kanyakumari - 3195 km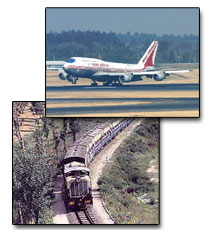 Some Important Phone nos.(Chandigarh)
Jhajj Taxi Stand (24 hours)
: Tel 2664019

Radio Cabs in Chandigarh:--
Mega Cabs:
Tel: 0172-4141414

Tricty Cabs:
Tel: 0172-4242424



Air India

Tel: 2704834

Jet Airways

Tel: 2740550, 2741465, 2741725

Indian Airlines

Tel: 2656029(Airport), 2704539(Reservation).

Kingfisher Airlines
Spice Jet
Railway Station:

Enquiry Tel: 2653131 ; Reservations Tel: 2708573



Bus Service

Punjab Roadways: 2606672 (Sec-43) , 2702043 (Sec-17)
Haryana Roadways:2704014 (Sec-17), 2603443 (Sec-43)
Chandigarh Roadways:2624413 (Sec-43)
Himachal Pradesh Roadways: 2668943 (Sec-43)
Airconditioned Bus services are offered by Deepak Travels. Tel:2663618, 9814010699


Hotels

Shivalik View:2700001,4672222
Mountview:2740544, 2743268,4671111
Aroma:2700045-48, 2700051
Pcadially:2707571, 2707573, 2705692
Sunbeam:2708100-107,2708900